When you need HVAC service for your Boston-area property, don't risk your creature comforts to just any random provider. For assistance you can really rely on, get out your phone and contact St. Jean Heating and Cooling in nearby Wilmington. Specializing in residential and commercial heating and cooling systems, our award-winning contractors have more than 25 years of experience in water heater and furnace repair as well as air conditioning service. Whether you'd like to save on energy bills with a tankless water heater or you need air conditioner repair before the next heat wave hits, we're here 24/7 to help. Reach us today by phone or e-mail! 
Angie's List Award Winner
Boston-Based Furnace and Air Conditioning Specialist
Expert Water Heater Installation and Repair
Over 25 Years of Experience
Serving Homes and Businesses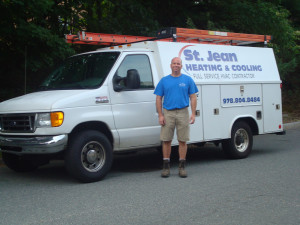 Since opening our doors in 1986, St. Jean Heating and Cooling has been dedicated to providing the greater Boston area with HVAC service of the highest standard. As a licensed contractor and the company's founder, Ray St. Jean believes strongly in offering top-quality repair and installation of water heaters, furnaces, and air conditioners at prices that are always fair. If you need furnace repair or air conditioning service, or it's time to replace your water heater, don't hesitate to give us a call. Our local, family-owned business is available around the clock, seven days a week, for all of your residential and commercial HVAC needs, large or small. 
At St. Jean Heating and Cooling, we pride ourselves on precision workmanship and first-rate customer service above all else. That's why we were so honored in 2007 to be given a Super Service Award from Angie's List. Since those awards are based on actual customer reviews, nothing could please us more. Today, we continue to bring that acclaimed level of service and satisfaction to property owners throughout Suffolk County and beyond. In addition to the Boston metropolitan region, we provide HVAC services to homes and businesses in Cambridge, Lawrence, Lowell, Lynn, Newton, and Woburn. Wherever you need furnace installation and maintenance or air conditioning service, we're just a phone call away to help. We even service and install all types of hot water heaters to keep you warm and cozy.
So take comfort in the experience of a proven HVAC provider. Contact St. Jean Heating and Cooling today for water heater work, furnace repair, or air conditioning service. Whatever the season, whatever the reason, we're fully licensed and insured for your complete peace of mind. Give us a call today!