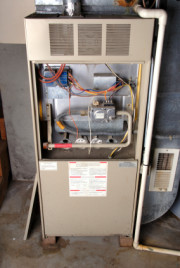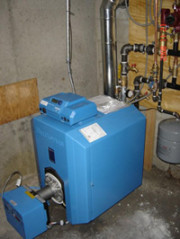 When temperatures plunge in the Boston area, having a furnace that functions is critical to keeping warm. That's why it's so important to have a furnace company you can count on for swift and expert service under any circumstances. As one of Suffolk County's most reputable HVAC contractors, St. Jean Heating and Cooling fits that bill nicely. Whether you need furnace repair for your aging heat system or furnace installation for your new high-efficiency model, our skilled and knowledgeable technicians will work diligently to ensure your comfort. If you want to stay warm all winter, add us to your contact list now!
At St. Jean Heating and Cooling, furnace repair and installation is our forte. With more than 25 years of experience in the trade, we work on all types of residential and commercial heating systems, from older oil furnaces to gas warm-air units to the latest heat pumps. We also provide routine annual maintenance as well as emergency furnace repair, because keeping your furnace clean and in top working order is just as important as acting quickly when breakdowns do occur.
To minimize the extent of damage to your heating system, having St. Jean Heating and Cooling on speed dial is a must! Calling us at the first sign of furnace malfunctions could prevent added complications to your unit. Our licensed furnace repair specialists are trained to address the wide range of possible equipment failures, including:
No heat
Broken thermostat
Pilot light outage
Defective blower motor
Broken electronic ignition
Annoying noises
And more
The furnace repair technicians at St. Jean's Heating and Cooling are more than qualified to quickly and accurately diagnose any electric, oil, or gas heating problem you may be experiencing. Plus, if the severity of your furnace failure should require a full replacement, we're prepared to lay out and clarify your furnace installation options right on the spot, saving you time and trouble. From helping you select the appropriate model and size for the space of your home or business to comparing the various energy ratings and showing you how you can save, we really are the local, family-owned furnace company you can trust to do it all!
Located in nearby Wilmington, St. Jean Heating and Cooling takes great pride in serving the entire Suffolk County corridor with furnace repair and installation that is second to none. Contact us today by phone or e-mail for a routine maintenance check on your home or business heating system or for needed repairs. We're fully insured and licensed for your protection, and we offer convenient hours each and every day of the week to accommodate your busy schedule. Give us a call today!