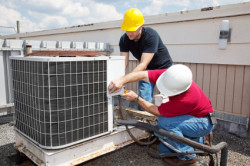 In the Boston area, we never know what the seasons will send our way. So, from hurricane force winds and driving blizzards to record-setting summer temperatures, it's nice to know you have a licensed HVAC specialist standing by to help ensure your comfort. With more than 25 years of experience in air conditioner and furnace repair, St. Jean Heating and Cooling is your source in Suffolk County for complete HVAC installation and service. Whether you need a new tankless water heater for your home or energy-efficient furnace installation for your business, we'll get it done swiftly, accurately, and at a price that won't break the bank. Call or e-mail us today for any of your seasonal AC maintenance or furnace repair needs!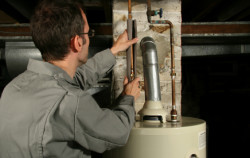 Comfort for Home and Business 
Unlike most HVAC companies that only offer furnace and air conditioning service, St. Jean Heating and Cooling extends our expertise to your water heaters as well. In fact, as one of the area's highest rated HVAC specialists, we bring you a wide array of both residential and commercial services, including: 
Complete diagnostics
Seasonal tune-ups
Furnace repair
Oil to gas conversion
Water heater installation
Tankless water heaters
Air conditioner repair
Installation of central air
And more 
At St. Jean Heating and Cooling, we understand the importance of maintaining a safe and comfortable environment for your loved ones, staff, and customers. That's why we make every effort possible to respond to your calls quickly and restore the peak performance of all your systems. From oil furnace repair to hot water heater service, our skilled and knowledgeable technicians have your comfort covered. Plus, if all else fails, and your unit must be replaced, we'll talk you through your options and ensure that your water heater, central air, or furnace installation goes off without a hitch. It's all in a day's work, and that's how we strive to earn your stamp of approval!
Emergency Furnace Repair 
In addition to offering convenient hours for scheduled maintenance, St. Jean Heating and Cooling also provides emergency service at any time of the day or night. That way, if your furnace breaks when the weather is at its worst or your water heater springs a leak, you won't have to suffer for long. Our dedicated technicians are part of the local community, and we pride ourselves on prompt and neighborly service, even if it means working late hours. Simply call us when you need us most, and we'll be there in a hurry to tackle all of your urgent HVAC services, including water heater and furnace repair. 
Fully Licensed and Qualified 
For your complete protection and peace of mind, St. Jean Heating and Cooling is fully insured and licensed in the State of Massachusetts. In 2007, we were the honored recipient of a Super Service Award from Angie's List. We're also an accredited member of the Better Business Bureau. Reach us today by phone or e-mail!