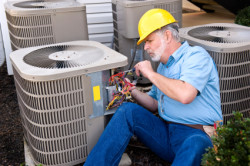 Are you tired of toughing it out in the summer with window-type air conditioners and fans? Is your central air conditioning system long overdue for a regular maintenance appointment? If so, it's time to let the air conditioning contractors at St. Jean Heating and Cooling help you beat the heat. Whether you need air conditioner repair for your residence or central air conditioning installation for your Boston-area business, we have the tools and training to keep you feeling refreshed. In fact, our skilled AC professionals have been helping locals stay cool and comfortable for more than 25 years, and we'd be delighted to do the same for you. Simply call today to schedule your air conditioning service!
St. Jean Heating and Cooling provides service for both your conventional air conditioner as well as your air conditioner heat pump, so no matter which type of unit you have, we're just a phone call away to help. What's more, our licensed air conditioning contractors can install central air using your forced air ductwork or perform a complete installation from scratch. With over two decades of hands-on experience, we have the knowledge to do the job right! From ensuring that your new system is the right size for the space to selecting the appropriate ducts for the project, you can rely on us for central air conditioning installation that's accurate through and through.
With St. Jean Heating and Cooling, it doesn't matter if your air conditioner repair is straightforward or complex. Either way, you'll get our incomparable attention to detail and timely, courteous service. We're available 24 hours a day, seven days a week, for all of your residential and commercial air conditioner repair needs, large or small, including:
Insufficient cooling
Unusual noises
Excessive cycling
Inability to produce cold air
Lack of circulation
And more
At St. Jean Heating and Cooling, we're always on hand for emergency air conditioning service. While AC may seem like a luxury to some, we understand the needs of individuals who are most susceptible to oppressive heat levels. If you need air conditioner repair as a matter of safety, business productivity, or even customer comfort, don't hesitate to contact our dependable air conditioning contractors. We're here for all your urgent calls from Cambridge to Lowell to Woburn.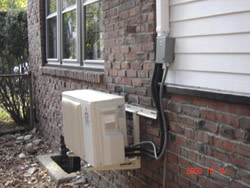 Already have a central air conditioning installation? Don't forget: it's important to have your central air cleaned annually. An air conditioning service from St. Jean Heating and Cooling can help you ensure that dust, mold, pollen, and other allergens don't accumulate in your HVAC ducts. By clearing out your heating and cooling system on a regular basis, you prevent these potentially dangerous substances from being circulated throughout your home or business. Call or e-mail us today for any air conditioning service, including your yearly ductwork cleaning. As an Angie's List Super Service Award winner, we know how to treat you right!