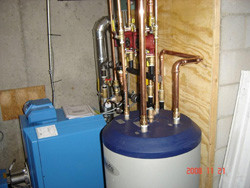 If you've ever had to start your day with an icy-cold shower, you know how essential it is to keep your water heater in good working order. That's one area where the expertise of St. Jean Heating and Cooling can come in especially handy. By providing routine water heater maintenance as well as emergency service, we can help to keep your hot water coming every time you turn on the tap. So discover for yourself why we're different from other HVAC companies. With more than 25 years of experience working with water heaters, we offer more than merely furnace and AC repair. For efficient and effective water heater repair and installation, contact us right away!
With St. Jean Heating and Cooling on your side, you'll never have to worry about the potential risks of mixing water with gas or electricity. Our licensed contractors have been working with water heaters since 1986, and we know how to avoid the host of possible hazards, from gas leaks and water damage to fires and electrocution. So instead of attempting to handle tricky water heater repairs on your own, call in the professionals that are top rated in the Boston area. Leave it to our safety-conscious contractors to take care of all your hot water heater problems, including:
Leaking water
Burned out thermostats
Faulty gas pilots
Broken heating elements
Degraded anode rods
Damaged pressure release valves
And more  
Whether your current water heater needs to be replaced or you've decided to upgrade to a tankless water heater, St. Jean Heating and Cooling is the right company for the job. We have more than two decades of experience in hot water heater repair and installation, so you can count on getting safe and sound results. Plus, we specialize in both traditional water heaters as well as the increasingl
y popular tankless water heaters, so whichever type of unit you need serviced, we're ready and able to help.
Tankless Water Heaters
Providing an average savings of $100 per year, tankless water heaters are the latest advancement in hot water heating technology. By heating only the water you use, instead of keeping an entire tank of water warm at all times, these eco-friendly water heaters use less energy, making them good for the environment and even better for your wallet. If you're interested in learning more about tankless water heaters, contact St. Jean Heating and Cooling today. We'd be happy to give you the whole scoop on these energy-saving water heaters and install a tankless hot water heater in your home or business.
Commercial Water Heater Service
As part of our complete commitment to serving the Boston area, St. Jean Heating and Cooling offers water heater service for both residential and commercial customers. Besides being the water source for your hot showers at home, water heaters are depended on in countless businesses throughout Suffolk County and beyond for sanitizing dishes, washing linens, cleaning surfaces, and so much more. If you have a water heater that's not working the way it should, or you'd just like regular maintenance to avoid potential downtime, get in touch with St. Jean Heating and Cooling as soon as possible.
We're Angie's List-approved and BBB-accredited to put your mind at ease!